The Mayan calendar is supposed to end next Friday on December 21st and that has led some to believe we're on a countdown to a global apocalypse.
But doesn't it happen every year that some calendar ends and it's our end? It was the same around the Millennium and we are obviously still alive on earth.
While some folks are out buying at the grocery stores, sacking their bank accounts, writing alleged tips "How To Survive The Mayan Apocalypse" or posting equivalent notes on Facebook, I handle it like Jim Valvano, an American college basketball coach "Take time every day to laugh, to think, to cry – that's a full day."
However, it will be better to be prepared – just in case! Here are our five barter tips to get ready for the apocalypse.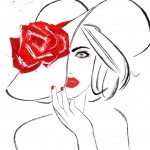 Get dressed up and swap for a fashion stylist. You never know who you will run across in the hereafter!
Who compunction your last call on earth or your first one in heaven/hell?
Is Steven Spielberg your icon? You can be the next Steven Spielberg when you record the end of the world with a Digital Video Camcorder. But be aware and charge your battery!
Take a GPS system with you because finally you want to know where you are!
Last but not least it's better to carry a baseball bat with you to defend yourself against the monsters or aliens. It could also be possible to meet a New York Yankee legend and then you are able to play baseball in the afterworld! Wouldn't that be great?