We're sure all of you passionate barterers have heard about this new series on A&E called "Barter Kings". Of course we find the idea and the concept for the show very interesting, as we preach the same message: start bartering and save money!
But can this be real what they show on TV? Is it really possible to trade a record for a speed boat? You might be tempted to say yes, after we all heard about the story of this guy trading his way from a simple red paper clip to a house.
But here are some thoughts: bartering "your way up" only works when you constantly trade what you have for something of a higher value. Technically, this means you're not engaging in an entirely fair trade. Unless of course, our counter party has a special interest in your item and is willing to invest something of a higher value.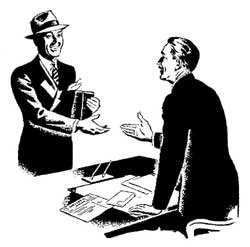 Also, the barter kings find their deals on Craigslist. We love Craigslist as it's an amazing platform for all kids of things – but not for bartering. The people who advertise on Craigslist might just want to sell their stuff in the end because they're not entirely familiar with the concept. Also, Craigslist offers no guidelines on how to proceed in a trade. This can possibly be dangerous as you might come across many scammers. Again, this is not against Craigslist. We just believe it's not the best platform if you are looking for interesting trades and like-minded people when it comes to the passion for trading.
In the end the show is very interesting and fun to watch. One might be tempted to go right outside and do just like how they do. We believe (or should I say we know?) it's not as simple as that. No matter how good of a negotiator you are, not everything is swappable. In this regard the show might give you a wrong impression about what is possible and what not.
Our bottom line is that Barter Kings is a very interesting show indeed and we love watching it. However, be careful when you barter and make sure you find people who know how trading works. Why not find them at http://www.barterquest.com?