This week, one of my best friends visited me spontaneously. I therefore took a day off yesterday to show him New York. He wanted to see Yankee Stadium so we set off to the Bronx.
When we arrived, our first view was of the huge, monumental stadium with the golden capital letters "YANKEE STADIUM." But after that, we recognized a crowd of people who were waiting on line. It's nothing unusual to wait on line in New York; however, the further we walked around the stadium the more people were lined up. Almost three quarters around the stadium people waited patiently. It was incredible.
At the beginning of the line we asked a security man why people were waiting on line because they couldn't stay there for Yankee tickets. He explained that they handed out vouchers for a free Thanksgiving meal.
Under this aspect it was an oppressive feeling: a situation like this we just know from the newscast in the third world, where people can't afford food, but what we saw there was true reality.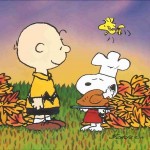 I told you that I am hosting Thanksgiving this year and I bartered for a private chef. I have been thinking about to donate the value of our Thanksgiving dinner. The holiday itself says "giving thanks". Accordingly we should be thankful for what we have! Let's celebrate Thanksgiving Day with our love ones and give thanks back to whom you think it should belong!