Even though tough days are behind us, more will unfortunately come! The aftermath of Hurricane Sandy is incredible: Lower Manhattan is still without power – parts of it are still under water – and the subway system has had its worst damage in its entire history!
This was my first time in such a serious situation. I only knew hurricanes from newscast; suddenly I was in the center of the devastation – it was a strange feeling and it is still. Under such circumstances you become conscious of who take care of you. When you are thousands of miles away from home – like me – Social Media and especially Facebook develop into an important communication instrument. My friends and many acquaintances asked on Facebook if I was alright and wanted to know what really happened. Luckily my neighborhood was relatively untroubled by Sandy. There were only a few broken trees and damaged cars.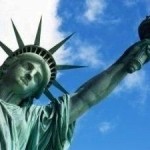 Unfortunately they are friends of mine who are still without electricity, water, and cell phone service. How can we help them? Be there for them! Support your friends in any way you can and show them that you are there for them: offer your apartment for them to stay, buy food, embrace them, or conjure a smile on their faces. Sometimes it is these simple things that help the most!
Through the worst that Hurricane Sandy caused, we are still New Yorkers and no one can keep us down. We are a proud nation and if we fall down we stand up stronger than we ever were before!