Posted on: January 14, 2010
Originally posted by: Aubree Casper
http://www.kstatecollegian.com/edge/regifting-not-a-social-faux-pas-1.2135621
It takes a little more creativity, however, if Aunt Sue special-ordered that flower pot and you can't simply return it. Fortunately, all hope isn't lost when it comes to chucking it for something more useful. One man's trash can be another man's treasure. One option to find that green thumb in Arizona, who would love a nice terra-cotta planter, is using auction sites like eBay.com or Amazon.com. That way you can either take the cash directly or put whatever you make into buying a more usable gift.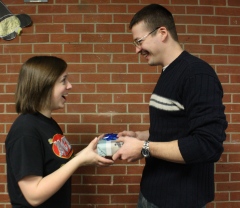 TheGiftCardTrader.com is one of many sites that allow users to sell or trade their undesired gift cards for one to a specific store or for money to another user, or they can sell their card (for less than its true value) to the site to get rid of it. Plastic Jungle.com offers a similar service, but it only buys gift cards and for no more than 90 percent of the actual value. But, if you really will never use it, at least get something for it, right?
Perhaps the most fun and interesting way to lose the guilt of re gifting is to have a re gifting party. Regiftable.com, a site dedicated to the perils and triumphs of the holiday ritual, recommends this as a social way to not only relieve those moments of disappointment, but to possibly barter with your friends for their gifts. Get together with a large group of friends and take turns presenting your unwanted gifts and taking bids, or set-up a marketplace-like event where people "buy" one gift with another. You might be surprised to find how many people end up leaving as happy customers (or regifters in this case).
No matter your method of pawning those impractical presents, make sure you have a game plan for how you're going to dodge those pointed questions from that family member when they want to know what you've made with the food processor they gave you. Regifting or bartering can be a win-win situation.