Friends of the night, it's that time again, time for black and orange, our next holiday's traditional colors. How will you celebrate Halloween this October 31st?
I usually get ready for Halloween last minute. But everything is different this year. Two months ago I got this great invitation from a friend for a costume party on the Upper East Side. So I made a decision to take pre-emptive action; I went shopping for my costume.
It was a bit stressful, but in the end it was worth the effort. I swapped for my outfit because I knew that it would be too expensive to buy (I need to keep whatever cash I can get my hands on). I traded intensively for two weeks and finally got it all: shorts, jersey, socks, black eye strips and shoulder pads. Yes, I decided to dress as a New York Giants football player. With the shoulder pads, and from just the right angle and in the right light, I looked like Victor Cruz.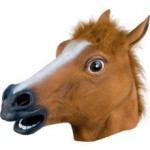 I also bartered for my boyfriend's costume. He doesn't like to be seen wearing costumes, so I swapped for a one of a kind solution on our site. No one will be able to make him out wearing a horse's head mask.
Victor Cruz rides again! Happy Halloween!