This time I want to open our blog with a quote from Ambrose Bierce:
"Speak when you are angry and you will make the best speech you will ever regret."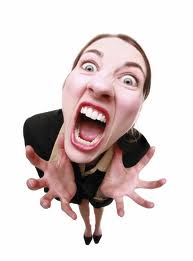 Probably you remembered the last situation when you said something in the heat of battle and in the next second you would have liked to put your hand in front of your month and bitten your tongue. This scenario was the subject of a recent episode of the TV series "Go On" (with former "Friends" star Matthew Perry). The group leader's boyfriend called all the group members by their nicknames, which he could have only known because the group leader told him. Naturally, and is the norm for this series, the group freaked out.
We all know what anger is, and we deal with it from time to time. We hope that we have the tools to deal with it so we don't do something we will regret.
Before you regret your next angry outburst, we suggest you please have a look at our category "Counseling:"
There are many professional life coaches listing their services. They can help you deal with anger. Moreover, they can work with you to improve your communication skills and motivate you to reach your life goals. Perhaps you will morph into Charlie Sheen in his series "Anger Management?" On second thought, that may not be your best goal. But you know what I mean…