Use a fan instead of A/C: A fan consumes far less energy than A/C and will still cool down your home (up to 10 degrees!). Also, use the reverse function in winter and help distribute the warmth throughout the entire house.
Make your own popsicles: Combine 1 cup of water with 1 cup of sugar in a small pan and bring to a boil. Then set aside to cool.
Then cut some kiwis into quarters, peel and remove the white core and the seeds. Purée the kiwis to a liquid. Combine the kiwi liquid , the syrup and ½ cup lime juice and pour the mixture into molds. Freeze for about 6 hours.
Swap sodas for homemade "lemonade": Throw some of your favorite fruit/herbs in a pitcher, fill up with cold water and chill for a couple of hours. Good combinations are: cucumber and lemon, lemon and mint, melon and mint etc. Since this is not really lemonade but rather flavored water, you don't harm your body with lots of sugar and therefore these homemade "lemonades" hydrate you much better and are in general better for you.
Go on a vacation almost for free: house swap. We already dedicated several articles to this topic so we don't want to go into it. It's as simple as that: check out our site for any possible house/apartment that might be of your interest, and then contact the owner or make an offer!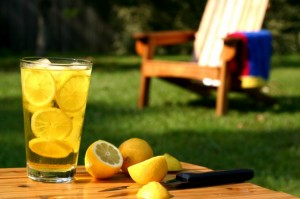 Use your grill instead of our oven: In summer you should take advantage of the outdoor heat and all the alternative activity you can do outdoors without using electricity and thus wasting energy. Use your grill rather than your oven and enjoy fun outdoor BBQs. The possibilities are limitless: you can roast veggies on your grill, make tortillas, roast marshmallows, etc.!
Dry your clothes on a clothes line instead of the dryer: Why not take advantage of all the natural sunlight and warmth to dry your laundry? Not only will your laundry have the freshest scent ever, but also will the sunlight kill germs and therefore serves as a natural sanitizer for your laundry.
All these swaps will make the summer heat more bearable or even enjoyable while you're saving a lot of energy and therefore make your life a little greener. Sometimes small measures can have a tremendous impact.