I'm sure most of you know it already, but just in case there's someone who doesn't: BarterQuest uses Social Media! We're currently present on Facebook, Twitter, Pinterest, Google+ and Youtube.
This article is about our social media exposure in general, why we put ourselves out there and why it's beneficial for you.
We use Twitter and Facebook for several reasons: even if you don't check out our site daily, we want to make sure you don't miss any good deals or giveaways, which is why we usually communicate these things via social media platforms. Also it's a convenient way to share information with our users, such as good articles we think might interest you, or just regular tips and tricks about every day life.
With YouTube it's a slightly different story. It's not primarily made to communicate, but rather to share videos. We mainly use it to share our video tutorials that show you in a fun way how BarterQuest works. We believe it's much more fun to watch an entertaining video than to just read how-to directions.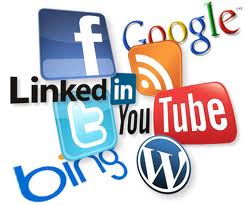 More recently we also joined Google+. We wanted to find out how that would work for us. We have the impression this platform is dominated by companies rather than individual members, but correct me if I'm wrong. However we're trying to connect with businesses (mainly in the NY area) but also individuals who use Google+ and who use BarterQuest or might be interested in doing so. The advantage of Google+ is that we're able to really connect with our users, for example by scheduling "hang outs" or just by sending messages
It was a very recent decision to join Pinterest, though. At first we were not sure whether this would be for us. But turns out it's actually a great way to share not only images but ideas and inspirations in general. We pin nice pictures from our website and also share DIY ideas. And of course we love scrounging through other pinboards for nice images and ideas.
We would like to encourage users to get in touch with us via social media platforms in general. It might be more convenient for you to drop us a line on Facebook rather than sending an email to our support if you experience any trouble on our site. And I can ensure you; we reply extraordinarily quickly. Why don't you give it a try and test us?