On Sunday April 22nd, millions of people worldwide will celebrate Earth Day, an event that aims to increase environmental awareness and inspire future generations to encourage the growth of a global green economy.
At BarterQuest we care about the environment and we encourage people to live a more sustainable lifestyle. In order to make a long-term impact on the environment, we have incorporated eco-friendly categories in our website. Our site allows users to redistribute unused items instead of disposing them.
Because we strive to make the planet greener, we decided to actively participate in this event. Therefore we chose to not only switch off the lights and the A/C today, but also to eat organic. But it doesn't end there; on top of that we were having a vegan lunch! You might ask yourself why eating vegan is so much better for the environment. Well, here are some facts: the amount of land used to grow crops to feed livestock is 10 times we need to grow crops for human consumption. Also, if you consider the feeding, housing, transporting, and slaughtering of animals, and then the packing and transporting of the flesh and products themselves, you're looking at a tremendous expense and degradation of natural resources.
So we prepared three lovely tasty meals that are not only good for us but also for our planet. Our choices included thai curry, tofu salad with sun dried tomatoes, and protein quesadilla with garden vegetables.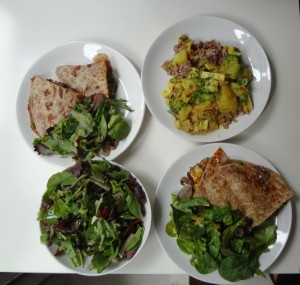 Are you tempted by this yummy food? Don't worry here's the Thai Curry recipe. This healthy and organic meal will fully satisfy your taste buds.
Heat some oil (i.e. olive or canola oil) in a large skillet over high heat.
Add some tofu cubes (you should marinate the tofu with some curry paste, garlic and lemon grass overnight) and fry until golden.
Remove to paper towels and set aside.
Now add some more oil (if necessary) in the same skillet over medium heat.
Add some chopped onion and minced garlic. Then throw in some veggies you like (i.e. eggplant, carrots, zucchini, broccoli) and fry while occasionally stirring.
Now add curry paste and fry for another minute while stirring.
Then pour in some coconut milk. Add lemon grass and let simmer for about half an hour on very low heat. Remove lemon grass, add salt and pepper and cilantro, throw in the tofu cubes and mix everything. Serve over rice. Enjoy!

Make sure to participate in Earth Day Events Sunday April 22nd 2012. But remember, Earth Day is every day. You can make a difference.
Karin and Tiffany