Originally on http://thecreativemama.com/tit-for-tat/
by: Erin Cobb
Early on in my photography business I discovered a fabulous little perk to having a creative pursuit of value – bartering. I've always been the kind of girl who appreciates a good deal. And bartering is the ultimate good deal.
Like last weekend, for instance. When I bartered a fun and funky family portrait session for a fabulous weekend at that fun and funky family's a-MA-zing mountain vacation cottage.
Since I discovered the joy of bartering a few years ago I've traded photography for trips, babysitting, tax accounting, children's clothing and legal advice. And I have my sights on interior and landscape designers in the future.
So what do you have to offer? Photography seems to be a popular interest around these parts but bartering doesn't have to be limited to what you do professionally. I know lots of working mamas who would pay (trade?) an arm and a leg for hot meals several times a week. Or errand running. Gift wrapping. House cleaning. Custom painting. Monogramming. Tutoring. Pretty much anything you enjoy and are good at is worth bartering with someone who enjoys, and is good at, something different.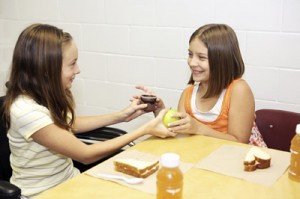 As you enter into a bartering relationship, here are a few tips:
- Approach someone about bartering who has showed previous interest in your hobby or strength. A simple statement like, "if you're ever interested in bartering, let me know!" is an easy and non pushy way to start the conversation.
- Make sure the expectations on both sides are clearly spelled out ahead of time. If necessary, put it in writing. Be sure to discuss the timeline during which your barter agreement will be fulfilled.
- Bartering generally works best with people you already know, trust, and whose service or talent you appreciate.
- Bartering relationships can be extremely rewarding but the balancing act can be precarious. By spelling out the details ahead of time you'll ensure that no one feels taken advantage of or is left feeling like they've put in more work than the other party.
- When costs are associated with the bartering agreement, decide upfront who will take care of them. For example, when I bartered a portrait session for our weekend in the mountains, our family took care of the cleaning fee and her family took care of printing their own portraits.
- Most importantly, HAVE FUN! Be sure you're bartering for things that are meaningful and enriching to your life. The last things we busy creative mamas need is to add more stuff to our already full plates. So figure out what you value and what you'd like to have more of while spending less for it, and propose a barter.