originally on http://ezinearticles.com/?Bartering-Your-Way-Back-Through-the-Economy&id=6107568 by Brad Rhoades
Is cash tight these days with your business? Maybe you work independently and it's difficult to find any kind of lending for a small business or for an individual? Or maybe your business needs to expand but there are simply no extra cash reserves. Well, bartering might be a great way to keep your business moving forward by trading your services or products in exchange for someone else's goods or services.
If you find your business is lacking cash, then this might be a creative way to help obtain new opportunities, goods, or services for your business.
Trading goods or services can be a terrific solution to acquire something in exchange to help improve or benefit your business without using any cash, especially these days when cash is so tight and banks are not lending too eagerly. This could be that out of the box solution to help push things ahead and keep your business and your life moving forward.
According to Wikipedia, there is an estimated of over 350,000 businesses in the United States which are involved in barter exchange activities. And there are approximately 400 commercial and corporate barter companies serving all parts of the world. I even found quite a few websites that let you look up others online to exchange skills, services, and knowledge. So bartering is looking alive and well these days. These online services take a little off the top from a small commission…but that might be something to consider to help find what you are looking for and vice versa.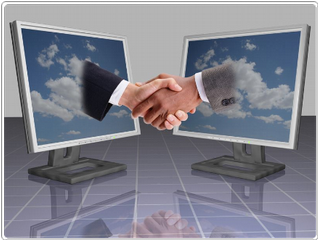 You might want to first just sit down and start brainstorming what types of jobs, services, or physical items you can trade with to another business or individual. Then start thinking what services and goods do you need? Who might need your product or service? Who might like to swap with you?
Maybe you are great with social media or computers? Do you have a special skill set to trade? Are you a handyman? Are you a hairstylist? Are you a plumber? Or maybe you are a dentist or an eye doctor? Maybe you are great at organizing things? Maybe you can help another business with accounting? Then barter your services or goods to acquire what you need for your business, in place of paying for cash.
Here are some ideas to get your business moving without any cash… And this doesn't have to be just for your business… you might want to consider bartering for your personal life? I think we all have to do whatever it takes to get this economy rolling again and bartering might be one idea to help us do just that. I also listed some skill sets to think about trading with? Why not? If you have a skill that someone else wants…find that someone who wants to make a trade.
~ Barter for marketing and promoting your business.
~ Barter to secure a business coach.
~ Barter to get your website built or online business going.
~ Barter to obtain some computer and office equipment.
~ Hair Stylist
~ Math tutor, language tutor, or other educational subjects.
~ Real Estate Agent
~ Home Stager
~ Pest Control
~ House Cleaning
~ Catering Service
~ Photography
~ Plumbing, Handyman, Carpenter, Roofer, Electrician, etc.
~ Accounting
~ Website Designer
~ Auto Mechanic
~ Landscape Specialist
~ Financial Planner
~ Soccer Coach, Martial Arts Instructor, Football Coach, etc.
~ Taxi or Shuttle Service
~ Make-up Artist
This list could go on forever but I hope this gives you some ideas to work with and I would encourage going online and researching for more ideas. Also, you can barter things like jet skis, pick-up trucks, tools, furniture, computers, and that list goes on forever as well. So if cash is tight these days then make a trade and keep things moving forward. Again, we all need to do whatever it takes to make this economy and our lives strong again.
So be creative, be persistent, and make it happen!