Originally posted on http://www.usmagazine.com/momsbabies/news/edie-falco-i-buy-unisex-clothes-for-my-kids-to-save-money—needs-pic-2010287
Edie Falco: I Buy "Unisex" Clothes for My Kids to Save Money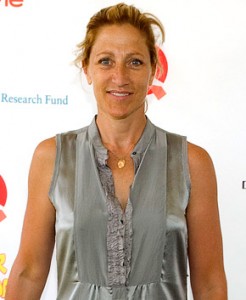 Edie Falco doesn't go overboard shopping for her children, Anderson and Macy.
"It's hard to justify spending a lot of money on kid's clothes because they grow out of them in five minutes," Falco, 47, tells UsMagazine.com. "And my kids don't really care what they wear."
"So I occasionally buy something for my son and he wears it until he grows out of it, and my daughter wears it," the Nurse Jackie star goes on. "I just make sure that it's unisex."
Falco, who adopted her Anderson in March 2005 and Macy in April 2008, says she asks her 94-year-old grandmother for parenting advice.
"[She] raised five kids who back in the day was doing everything. Grandpa was out making the money, and grandma was feeding one kid with her hand and rocking another kid in the cradle with her foot," says Falco.
"She would explain to me about patience. It's about teaching yourself to be patient. We all move at a pace and get used to it. And then you're with kids who have their own schedule and own time frame. Part of me wants to just say 'C'mon let's go.' But they're not having it."
"You can come to loggerheads if you don't learn how to breathe and learn how to let them take the time they need. You have to let them be sometimes — to let them look at a book to let them brush their teeth," adds the Emmy winner.