originally posted on http://littlehousesouthernprairie.wordpress.com/2010/07/28/bartering-to-save-money-share-your-experiences
Bartering to save money — share your experiences
I would love to live a life where, for reasons much more about Ain't Got Extra Cash than fuzzy-wuzzy-community-building (though hell, why not), a nice chunk of what I need is exchanged through bartering.
So far my efforts have been not so hot. When I threw out my back and then lived in flabby-ass-confirming misery for two weeks, I posted a possible trade on Craigslist: Work in my garden, and in exchange, I'll do some sort of writing/editing/tutoring work. I got two bites. One from a guy who wanted me to tutor his daughter, but when I emailed him back for specifics, he never responded; one woman said she didn't do gardening work but if I needed my house cleaned and could pay her to do it, she was interested.
In the coming weeks, I'm doing to try some dog care swapping with another stay at home mom in my neighborhood. Basically, she'll watch my pups when I go away for a few days and vice versa. I feel good about it, and if it works, this relationship could save us hundreds in kennel fees.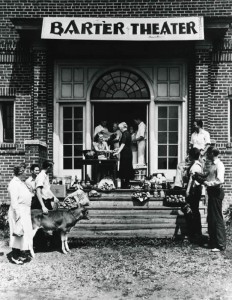 But what keeps me from pursuing a full-on Life O' Trading is …
1) For some of these jobs, like dog care or anything where I allow someone in my house, even when I'm there, I need to feel like I can really trust them. And to really trust them, I need to really know them. And if I really know them … I feel guilty about asking them to do any work, even if they're getting work from me back, because everyone I know is already stressed out and busy enough, you know? In some ways it's easier to hire a stranger who you can imagine has nothing to do all day except for help you. The unfortunate downside, of course, being hiring costs money. Is bartering best with some magical level of acquaintance?
2) Worries about inequity. I already suspect I'm going to be calling on my dog friend for help more than she will need to call on me. How do you keep things fair, and from one side from feeling overused?
3) That Person. The people who make you feel like you just should have done the project yourself or hired someone. You know, the usually-cool friend who sincerely volunteers to help, but doesn't follow though because they're "really busy right now," and then you're stuck with more work because you counted on them and shouldn't have and need to figure out Plan B. We all know people like this, right? Let's name names in the comments section! Just kidding.
I'd love to hear others' experiences in bartering (or just, you know, a deal where you help out a friend and vice versa), and any tips you have to share!