Originally posted by Sean Rasmussen on http://seanseo.com/internet-business/bartering-tips-for-online-business/comment-page-1/#comment-8462
Bartering Tips For Online Business
Back in the early days of civilization when there was no accepted form of currency, purchasing was based on the barter system. If the caveman down the way had a hunk of dinosaur meat you were interested in, you could offer him a pelt of fur in exchange for it. You got to eat, the other guy got to stay warm. It was a win-win situation.
Things have certainly changed in modern society but the barter system is still in use. Trading products, services, or promotional efforts provides an affordable way to extend your internet marketing reach.
Trading Services
You might be in need of professional services for your company. Often accounting or legal services, necessary for the growth and compliance of your e-commerce company, present prohibitive costs to the small business owner. Why not barter for these services?
Consider offering a free banner ad or a complimentary write-up on your blog in exchange for an initial consultation or a service from a professional who offers the services you need.
If your first offer doesn't pique the interest of a professional provider don't give up. Provide a list of things they can choose from. There is bound to be something you can offer that is of interest.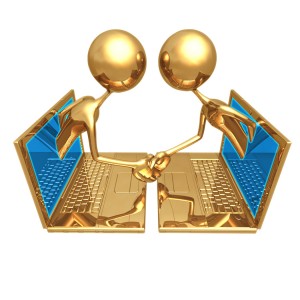 Promotional Bartering
You can really extend your marketing reach if you partner with others to help spread the word about your online business. This is a simple concept, usually offered in exchange for like promotional efforts.
Working with another online individual or company, you can offer to exchange banner ads, blog posts, a link in a blogroll, or even do-follow comments.
But you can also use other items to barter with. If your website sells products, consider giving something away in return for a posted review, a testimonial, or a referral on a social media site.
Planning an event? Whether it is an online or offline gathering, find the vendors who can supply the needed components, such as webinar software. Ask if you can exchange the necessary product or service for advertising spots on your website or a complete write-up of the event afterward that showcases the vendor's offerings.
Need a logo for your start-up? Why not offer the graphics artist a direct link from your site in exchange for the design or a deep discount?
General Bartering Tips
Bartering works best if you attempt to exchange items or services of similar value. Offering a blog post in exchange for the complete legal setup of your business is probably not going to entice a lawyer to take you up on this deal. It is easier to make appropriate offers by first assigning a dollar value to the product or service you are using to barter.
If you don't already have a relationship established with a vendor, provide them a show of good faith by giving something upfront. With so many scam artists on the internet these days, many people are leery of deals from an unknown source.
Bartering can save the internet marketer a lot of money while extending their marketing reach. Even if you don't have cash, there are ways to attain the things you need by offering an even exchange.