Posted on: January 18, 2010
Originally posted by: Fascinator
http://makeyourwayaroundbritain.blogspot.com/2010/01/bartering.html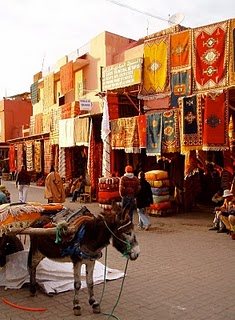 I bought a little rug/ bedspread during my hols – lovely – cream, textured and glittering with sequins. I was pleased to knock it down to £50 from £130. I felt a bit bad bartering to be honest. As someone who makes things by hand, I know how time and skill should be rewarded, and I didn't want to get away with a ridiculous price (mind you – I don't think that happens these days!). However, I was really pleased to hear that exchanging skills and goods is alive and well in Marrakesh. A friend was offered a Moroccan pouffe for his jacket, and another guy I met traded his hat in part exchange for a carpet. Next time I must bring some titfers of my own!