Posted on: January 13, 2010
Originally posted by: Webnews
http://www.webdesignbyleah.com/internet/why-many-people-are-getting-creative-with-their-financial-decsions-and-using-bartering-as-a-type-or-currency/
A lot of people are having to become quite creative in the past two years as the economy has continued to go down and the majority of Americans are financially worse off than they were only 12-24 months ago. People have been realizing that you can live a more simple life and that having more material items will not make you more content and by reducing the size of your home and your possessions may be a good change for the future. A lot of younger people were used to paying for everything with a credit card and then when they lost their jobs they were left with a lot of debt. They have had to learn to save their money for things they really want and to live within or below their means now. One thing that has gained popularity and is one of the oldest forms of commerce is to barter or to offer a fair trade for something instead of exchanging money. You can barter services or even items such as fair trade jewelry or handmade furniture.
A lot of people that work in service related jobs have been more used to bartering with their customers and it is definitely popular again. For example, a person that is a hairstylist may be able to offer their hair cutting or styling services to receive an item that they do not have the money for right now but must get immediately, like a new set of tires for their vehicle. rather than cash they can offer some haircuts to pay for the tires.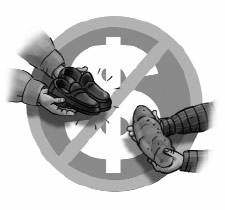 Another service job that would be a perfect one to barter would be the additional items that people have had to eliminate their tighter budgets but really miss having. One example is a housecleaner who has had their business drop a lot lately might be able to exchange cleaning someone's place for child care for her kids while she goes out to work.
Some people have goods that they sell or make that would be great bartering capabilities. For example, a woman that makes beautiful handmade jewelry could barter some of her jewelry pieces to get a few home cooked meals delivered to her family by a friend that is a great cook but can't afford to purchase the jewelry. Another example would be person that crafts beautiful personalized baby furniture such as cribs, changing tables and dressers that needs to have tutoring help for her child it. She could barter with a teacher that is pregnant and will be needing things for her baby and will also be on maternity leave and could help the woman's daughter with the academic tutoring that they may need.
In the end, many people like bartering as long as they feel like they are getting an even exchange of goods and services. It allows people to be able to get things that they want or need without having to have the cash to pay for it. A lot of people are going back to some of the lessons and techniques once used by their grandparents with their finances.