Posted on December 10th, 2009
Originally posted by: doughmesstic
http://doughmesstic.blogspot.com/2009/12/wintery-macarons.html
So, this whole thing with the bartering.  Have I even mentioned it here, or just on Twitter?  Well, I like to repeat myself, so you're getting the scoop yet again.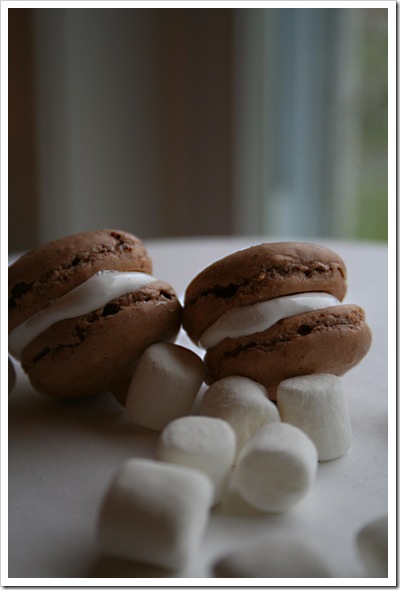 I am bartering this year.  For stuff.  Christmas presents and such, you know.  So I started shouting on Twitter – who wants to trade? And I got lots of responses!  It seems that it isn't just ME trying to be a little frugal this year.  Now, I don't want to say WHO I traded with or what FOR exactly, because hello? The stuff is for gifts.Gifts . (Okay, maybe a few things are for me, but I, too, will be experiencing the Holidays.  So, Yay me.)  But, I'm talking toys. Apparel. Ornaments. Food.More food.  Good stuff.  And what did I have to do in return?
Bake my fool ass off, that's what.
I bartered out gingerbread cookies and so many macarons that if I don't see another cookie until 2010, that's fine by me.
This go 'round, I made two different flavor combos.  The first was Hot Cocoa, the second was Candy Cane.  i thought they fit the Holidays.  Yummy, too.  But here's the deal…they didn't turn out quite as perfect as I would have liked.  Yes, still cute as a button and taste great, but I like mine to be perfectly flat. These all had the little "kiss" on top –small, but still there.  The reason? I doubled the recipe .  I just don't think that's a good idea – the batter doesn't seem to get wet enough.  I've done this once or twice before and gotten the same "kissy top" result…therefore – do as I say, not as I do. Don't double the recipe. Just make 2 separate batches if you want umpteen dozen of these suckers.  They do make nice gifts, especially if you package them up nicely.