Posted on November 24th, 2009
Original post by: Stephanie Hirschmiller
http://www.thehandbook.co.uk/251-barter-economy-news-article.asp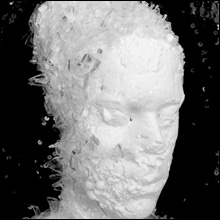 Bartering has long been a mechanism on which the art world spins – from Picasso exchanging sketches for meals and London's YBAs running tabs at The Ivy in exchange for pieces of their work to adorn the venues walls. Even Manhattan's Chelsea Hotel, home to a slew of famous residents including Bob Dylan, Allen Ginsberg, Dylan Thomas and William Burroughs would once accept art in lieu of rent from its cash strapped incumbents.
Now, however, curators Lauren Jones and Alix Janta are organizing a show that takes things to the next level. It is to feature work from 50 London artists including Tracey Emin, Gavin Turk, Mat Collishaw and Gary Hume. The event will open its doors from the 27th of November to the 29th of November at the Rag Factory in east London. The idea is that artwork will be acquired by individuals through alternative means to money. As ever, though, there's a catch as the public will not know which artwork belongs to which artist until after the show's end.
Says Jones, "We want to make art available to a more diverse crowd, not just people with disposable income. ArtBarter is the perfect setting to make this happen, whilst also providing a fun way to get people involved with the arts." So whether you have a special talent or skill to offer or something unused that may be desirable to others or if you just want to see a great exhibition you can come down and try your luck.
One lesser-known artist, Ian Bruce, also one of The Correspondents, who went down a storm at this year's Glastonbury is hoping that "it's going to be sexual favours and trips to people's holiday homes." However what he'd really like in exchange is the chance to paint someone he really admires like Stephen Fry".
"We have a Swiss taxidermy enthusiast who has fantasies about owning Polly Morgan's work," says Jones. "He has a chalet in Switzerland to barter with and there's an anonymous artist who has been given a grant to build the actual wing of an aeroplane through his council flat in Fulham, and is offering it as his work of art. Apparently he is hoping to get a big house in Chelsea in exchange for it!"
But today's barter economy doesn't stop at art. The Restaurant at St Paul's Cathedral recently rewarded London's keenest gardeners with a ground breaking 'Harvest Swap Shop' – one box of their finest horticultural efforts in exchange for a free Sunday lunch.
Out in Amersham, the tiny Artichoke restaurant set in a Grade II listed townhouse and described by Raymond Blanc as his best discovery in the last five years, operates a bartering scheme with the locals who bring in produce from their gardens in exchange for wine with their meal or a dessert made from the fruits of their labour.
Back in the smoke, The Marksman pub on Hackney Road operates a bartering system in return for beer and meals. It all started when Dawn Kolpin, the pub's Colorado born land lady decided to replace the music on the jukebox and placed an advert on the classified website, Craigslist. A customer offering Perry Como cds negotiated a free meal. The idea mushroomed and Kolpin compiles a wish list including a piano tuner and a set of drill bits. She's even scored a redesign on the pub's roof terrace from a landscape gardener.
Skill swapping is a great way to raise money for charity as well. In January, the intrepid Becca McRow is climbing the 7000m Aconcagua, the highest mountain in South America, in aid of The Anthony Nolan Trust. However, rather than simply requesting sponsorship, she is raising money through a skill swap involving her very talented friends who are offering their services for free. And with burlesque dancing lessons going for a tenner, there's no excuse not to get involved.