Why barter? Here are some reasons, and some cautions.
Originally posted by Laura Cohn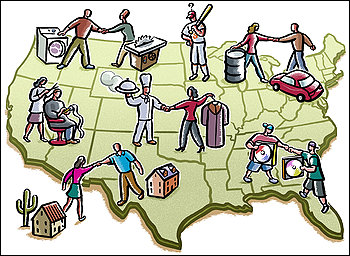 – It's the new national pastime. Okay, baseball still wins. But given the economic downturn, many people are reverting to this ancient form of commerce. Craigslist recently reported that bartering activity on the site had jumped more than 80 percent in the past year. Sites such as BarterQuest.com report a surge in interest, too. BarterQuest, which offers swaps on a wide variety of goods and services, drew more than 100,000 visitors just two months after the Web site launched late last year. The reason? Bartering is addictive — and fun. Kent Berryman, founder of  Swap-It-Now.com, says that once users post one item, they usually offer up more.
– You can trade just about anything. Want to upgrade your camera? Online retailer Adorama will give you a free quote on a price for your old camera and cut you a check or offer a credit toward new equipment. Dying to break your car lease? Go to Swapalease.com or LeaseTrader.com, which, for a fee, will pair people who want to unload their leases with people who want to assume them. But don't stop there. At SwapThing.com, recent trades included a gas clothes dryer for a high-speed table saw, a personal-shopping jaunt for a Nintendo Game Boy and games, and a service swap between a hairdresser and an accountant.
– Let the barterer beware. Craigslist doesn't prescreen users. So if you're looking to swap for a service you really need — such as babysitting — start by contacting friends and neighbors. Or try a site that verifies the addresses and phone numbers of its users, such as BarterBee.com. BarterBee lets you trade CDs, movies and video games free of charge. But, says chief executive Robert Alvin, be sure that you know what your product or service is worth. "If you list it too high, it won't move," he says.